Oral and Maxillofacial Surgery
Oral Maxillofacial Surgery is a specialty which involves diagnosing, operating and treating oral diseases, injuries and defects that involve the functional and visual aspects of the hard and soft tissues of the mouth and jaw. To simplify, the oral and maxillofacial surgeon is the orthopedic surgeon for the face. He or she is an individual who addresses issues that vary from the removal of impacted teeth, to the repair of facial trauma.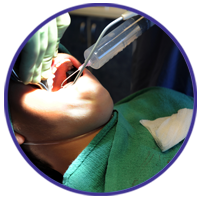 What are some reasons to visit an oral-maxillofacial surgeon?
To have teeth replaced by getting dental implants.
To have your jaw aligned with orthognathic surgery.
To have a jaw, oral, or facial cyst or tumor diagnosed, removed and reconstructed.
To have your jaw joint(s) repaired with TMJ surgery.
To have facial reconstruction after cancer surgery.
To have facial bones realigned after trauma.
To have a consultation to determine whether you are a able to have cosmetic surgery.
To have a tooth extracted.